At this point, for online marketers Twitter and Facebook are no longer just ways to chat with our friends and colleagues. Both platforms provide a rich environment for user and customer acquisition. The biggest problem though, is that there are virtually no analytics or metrics other than follower/friend counts.
From what I've seen, Ad.ly is well on their way to changing that.

Would you like to see more data like that on your followers? I thought so. How about this: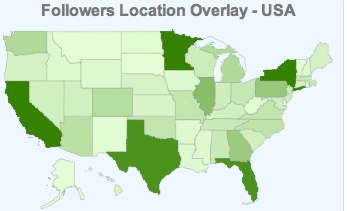 All you have to do is head over to Ad.ly analytics and the authorize your
Twitter account. It takes less than 15 seconds and you're up and
running.
Right now you can see follower statistics like: gender
breakdown, percent engaged, location (domestic and global), most
influential and my personal favorite,
the time of day you tweet and time of day you get retweeted. Twitter
marketers and rabid users are going to love this tool. They also have
an paid version of the product that will allow you to dig much deeper into your follower data. I am a bit skeptical that average users will pay for this but you never know? It's worth a shot I suppose.
A few things I'd like to see right off the bat:
Suggestions on optimal time to tweet based on when I will get the most retweets
An analysis of my social graph and a suggestion of who I should convince to follow me to extend my reach the most in the sectors that matter to me.
Pull in all my click data from bit.ly etc and show me which links I've posted that are the most popular.
This is hot stuff, and if they keep improving it I doubt that Twitter will be able to avoid acquiring these guys. You heard it here first.