I've been using the beta version Line2 app from Toktumi in conjunction with their phone system for a few months now and I have to say it rocks.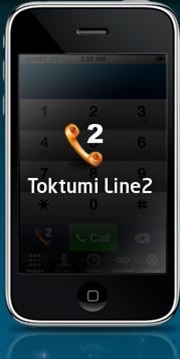 I was really excited about Google Voice, which is still a nice consumer app, but the Toktumi/Line2 combo is a real business solution. The base Toktumi virtual PBXgives me the power of a traditional PBX system (which we had an internal Asterisk system but Dillsmack threatened to quit if he had to keep maintaining it) with auto attendant, extensions, etc. plus new calling features like simulring, which rings any or all of my phones at once – office, cell, home, whatever – call handling – this person goes straight to voice mail, this person goes to office and cell, this person goes to straight to cell and home, etc. On top of that I get unlimited free calls throughout the US/Canada and some dirt cheap international rates, like $.02/min plus instant conference calls for up to 20 people all for only $14.95/month. Oh and did I mention they let me pick an 800 number, local number or transfer an existing number, pretty sweet.
If that was it I'd still love the service but what really rocks is the Line2 app and the desktop sharing. For a few extra bucks I added the unlimited desktop sharing, which means no more annoying conference calls where I'm trying to explain to my designers what I want changed on the web site design. I just share my desktop with them and use the annotation tools to show exactly what I want changed. The best part is it's all online so no clients to download and setup, if there's something I want to show I just point them to the Toktumi site and give them a login #, that simple. I can even record the whole thing on video. We were using another service for this, but Toktumi is better and more integrated.
The capper though is the Line2 app,which was just approved by Apple for the iPhone. There's also a Blackberry version. Line2 adds my Toktumi number, voicemail, contact list, all onto my iPhone. So if I want to call from my "office phone" I just open up the Line2 app and dial. My Toktumi number is shown in the caller ID. Voicemails are separate from my AT&T personal voicemail but it has the same visual voicemail interface so I can listen to what I want and ignore the rest.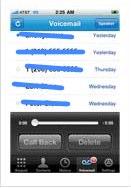 Probably my only complaint about the whole thing is that I really like Voxie voicemail transcription, and they don't do that but I think they are adding it.
The whole app is really slick. In fact I liked it so much I contacted them to see if I could offer Shoemoney readers a deal on it to try it out. How's three months free sound? Just be one of the first 50 to click here and enter this code 268057206 when you sign up. And no they won't give you my phone number even if you say we're friends 😉